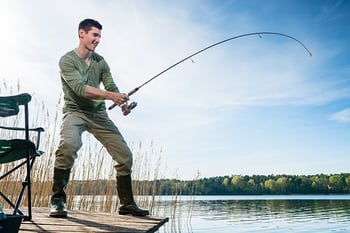 The Bradenton area is well known for its outstanding fishing venues. Whether you'd prefer to fish off a pier or the shore or take your boat out, you'll have plenty of destinations from which to choose.
Related Blog: Top 5 Leisurely Activities Near The Islands Community

The following are some of the best places to fish in the Bradenton area:

Fort Hamer Park
Fort Hamer Park is a unique place to fish, since it marks the freshwater line in the Manatee River. As a result, you might catch snook and bass, one right after the other. Fish off the pier or from your boat, but be mindful of the rowing teams that use the area for practice. The park has been upgraded to include a large boathouse, floating docks, and a deck area.
Your Private Dock
You can build your own private boat dock at nearly every home at The Islands on the Manatee River, making it the ideal spot from which to fish. You won't have to drive or launch your boat - you can just walk down to your dock anytime you'd like, even if you like to fish at night.
Lake Manatee
Lake Manatee is an excellent spot to fish from the docks or from your own boat. A boat ramp makes it easy to launch your boat, canoe, or kayak, but vessels must be under 20 horsepower. You can often catch largemouth and sunshine bass, bluegill, speckled perch, and catfish in this freshwater lake.
Anna Maria Piers
Fishing piers and bridges are scattered over seven miles of shore at Anna Maria Island. Fishing from the Historic Bradenton Beach City Pier feels like a quaint throwback, and you can buy bait at several shops if you need it. Try your luck fishing for grouper, bluefish, flounder, and more at the piers.
Sunshine Skyway Piers
Since the new Sunshine Skyway Bridge was built, the approaches to the old bridge have been transformed into a large pier, which is even lit at night. The piers are high above the water, but you can also fish from the shore if you'd prefer to be closer to the water. You can catch a wide variety of fish from the piers, including grouper, flounder, black sea bass, snook, and tarpon.

To learn more about The Islands on the Manatee River, contact us for information. We'd be happy to show you all that our beautiful gated community has to offer fishing enthusiasts.