Whether you're new to the area or have been a long-time resident of the Manatee and Sarasota communities, by now you've discovered the natural beauty that surrounds our little slice of paradise. At The Islands on the Manatee River, we offer residents the ultimate boating lifestyle in a private, thoughtfully designed luxury waterfront community. Even during the holiday season, there is so much sunshine and greenery all around, it's easy to see why so many affluent empty nesters have made their home just across the Fort Hamer Bridge from the Lakewood Ranch community.

Yet, no matter how much you love your very own home, the communities surrounding our neighborhood are vibrant, thriving areas during the holidays. There's so much to do, from sophisticated musical events to family-friendly holiday fun. Here, we list some of our favorite holiday events for 2020. While a few health and safety measures might be in place to ensure everyone has a great time, there is still plenty to look forward to this holiday season! Take a look:
Ellenton Holiday Village
December 3 - January 3
Not only is Ellenton's Prime Outlets a great place to shop for the upcoming holidays, for the month of December they are also enticing families and children of all ages to step right up with midway rides, games, fair food, entertainment, and even socially distanced visits with Santa. For more info click here.
UTC Festival of Trees
December 5-20
For even more festive shopping, Sarasota's premier shopping mall will be lit with University Town Center's first annual Festival of Trees. Donated and designed by local charities, visitors can simply enjoy the show or place a silent auction bid on a tree to be taken home on December 21st. All profits benefit local participating charities, and while raffle tickets are $1 each, admission is totally free. For complete details click here.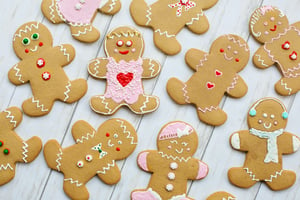 12th Annual Gingerbread Festival
December 11-20
While you're visiting the UTC area, stop by the extensive gingerbread house display, hosted by The Girl Scouts of Gulfcoast Florida. 150 gingerbread houses have been gorgeously and uniquely decorated by youth groups, schools, and local businesses. Vote online for your favorite and come by on December 20th to see the winners awarded! For online registration click here.
Selby Gardens "Lights In Bloom"
December 12-23, 26-31, 2020, and January 1-2, 2021
Experience the beauty and magic of the holidays when you visit Selby Gardens' Lights in Bloom display. With over two million lights strung in an open-air garden, the grounds of Selby Gardens are transformed into a winter wonderland. Sip hot beverages and munch on snacks at the Selby Gardens Café, take advantage of your photo opportunity (courtesy with your admission), and enjoy this historical site from a new, holiday perspective. Admission is $25 ($20 for members), $7 for children ages 5-17; children 4 and under are free. To purchase your tickets click here.
Discover Sarasota's Holly Jolly Trolley Tour
December 16-23
Take your own Sarasota sleigh ride around town with Sarasota's Holly Jolly Trolley Tour. Sip hot cocoa, sing along to your favorite Christmas carols and listen to stories about favorite local holiday traditions throughout Sarasota, including gorgeous and historical Sarasota homes. Tours depart at 11am on Wednesday, December 16 and 23, and at 1 pm on Sunday, December 20. Adult tickets are $34.99 each; children 6-11 years old are $18.99 each. Click here to schedule a tour.
Asolo Repertory's Holiday Concert Under the Stars
December 17 - January 3
In keeping with the spirit of the season, Asolo Repertory Theatre presents "We Need a Little Christmas" on the theatre's new Terrace Stage at the front of the building. Bring the whole family, lawn chairs or blankets, and your holiday spirit to experience holiday favorites old and new, including nostalgic songs from musicals as well as the holidays. Tickets are $25 for blanket seating or $40 for chair seating (patrons should bring their own blankets). To order tickets click here.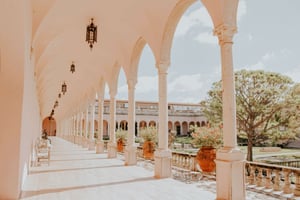 Ringling's Christmas Carol Online Presentation
December 18-20
Keeping holiday events safe for everyone in this season of COVID, some create restrictions and others just get creative. Ringling Museum chooses the latter with a fabulous retelling of A Christmas Carol by an interdisciplinary performance collective based out of Chicago. Experience puppets, miniatures, silhouettes, and a live original score performed live by Manuel Cinema Chicago studio. This is a world premiere event streaming on four different dates and times. Tickets are $18 per household, $16.50 per household of members. You can purchase tickets online.
The Frosty 5K Virtual Race
December 19-27
For our local runners, virtual races have become a new way of experiencing race season. Run anytime and anywhere during the race's start and finish dates, alone or with friends and family. Once you log your race results on their website you'll earn a race-day T-shirt and a plaque with the Frosty 5K logo on it. The entry fee is $39 and proceeds will support the Active Suncoast Foundation nonprofit. To sign up.
Sarasota Christmas Glow Run 5K
December 19
If you're a runner who's been missing in-person races, we have a spectacular event planned for you! Run your 5K race through Nathan Benderson park while enjoying Christmas lights, music, and even a light snowfall at the finish line! Glow-in-the-dark items will be provided beforehand to increase the fun! Runners can be tracked with the Elite Event app, and prizes will be awarded. The entry fee is $39; instructions and packet pickup info can be found on the race's website.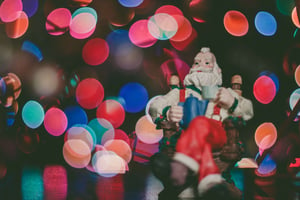 The Children's Garden Elf Workshop
December 19
Bring the kids to meet Santa's elves at this festive event! Children can tour Santa's workshop and even decorate crafts like a real elf! They will receive their elf name, write letters to Santa, and use elf money to buy a treat at the Woodland Café. The Children's Garden is an essential stop for kids of all ages this holiday season. Tickets are $5 online and activities begin at 10 am.
Choral Artists of Sarasota Holiday Lights!
December 24 - January 21
Church of the Redeemer in downtown Sarasota will host the first Choral Artists live performance of the season. Be one of the 50 to reserve your spot and join us for Holiday Lights! in the church's open-air courtyard. This festive musical presentation celebrates Christmas and Hanukkah, beginning at 5 pm. Tickets are $50 per person and can be purchased online.
Holiday Happenings at Mote Marine Aquarium
December 21-30
For an educational excursion with kids during the holiday break, visit Mote Marine Aquarium's holiday-themed program. Open-air stations in the laboratory's courtyard include squid dissection, coral health, and eco-friendly crafts, plus kids can participate in ocean-themed yoga. Programs are held from 10 am-3 pm daily during the holidays. Tickets are $7 plus admission; $6 for members. For more information click here.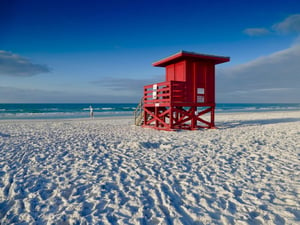 Siesta Beach Christmas Service
December 23
At 5 pm, join Church of the Palms for this free Christmas service on the sandy shores of Siesta Beach. Meeting near the volleyball courts, this contemporary service will feature the singing of Christmas carols and the telling of the Christmas story. Bring your own beach chairs or blankets and enjoy the setting sun as we celebrate Christmas together. For details click here.
Pinecraft Christmas Day Parade
December 25
After all of the presents are opened and eggnog is gone, come out to the 25th Annual Pinehurst Christmas Parade, starting at 3 pm. The parade route, complete with colorful floats, costumes, and more, will wind through the Amish and Mennonite neighborhood, starting at Der Dutchman restaurant on Bahia Vista Road and ending at Birky Street. Parking and admission are free.
Sailor Circus' "Seasons Greetings"
December 26-31
For a twist on a holiday tradition, bring the family to the Sailor Circus Academy where students ages 8-18 will perform Seasons Greetings, their annual high-flying acrobatic event. Cheer students on as they tumble, roller skate, cartwheel and juggle their way across the circus rings. Performances begin at 2 pm and 7 pm daily; 1 pm and 6 pm on Sundays; 1 pm on Thursday. Admission is $20-30 per person; $25 for a digital copy of the show. Buy tickets online.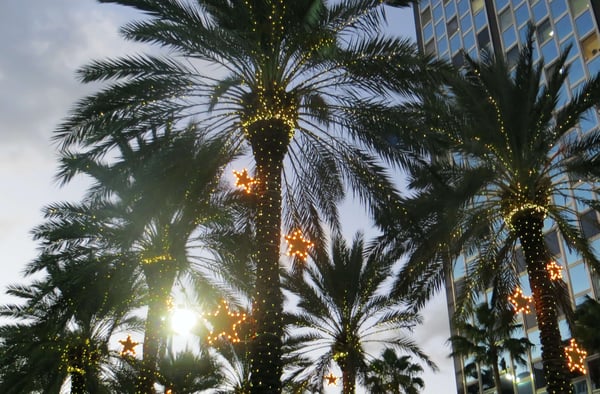 As you can see, there's plenty to do this time of year. Why not take this opportunity to discover everything our beautiful area has to offer? Just across the Fort Hamer Bridge and beyond the Lakewood Ranch communities lies a private, active community just waiting to be discovered. With holiday events for adults and children alike, there's something for everyone. This is one of the main reasons home builders in Sarasota, FL love to design and build at The Islands on the Manatee River. With so much to do for such a diverse population, you're sure to discover amazing holiday traditions right around the corner.

If you're new to the area or hoping to relocate here soon, download our brochure or contact us to receive more information or schedule a tour.