Looking for ways to stay cool this summer and entertain the kids. Check out some of these great places to keep cool and let off steam.
Arlington Park and Aquatic Center - Arlington Park Community features three swimming pools. A progressive / teaching pool designed for diaper aged children. A family pool to accommodate parents and children of all ages and an olympic pool designed for lap lane swimmers, swim & dive competition and water sport fun.
Bradenton Riverwalk Splash Fountain -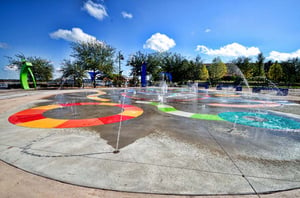 With its colorful splash fountain and playgrounds, the Family Fun Zone is one of the most popular features of the Riverwalk. Adults can relax on the shady benches while kids romp nearby on the jungle gym and splashpad.

Children's Fountain at Bayfront Park - With the beautiful view of Sarasota Bay, The Children's Fountain is an additional, enjoyable splash park for your kids. Located on Sarasota's bayfront just west of downtown, your kids won't get bored of the fountains, and you won't get bored of the beautiful view. Open during the summer from 10 a.m. to 7 p.m., this place is excellent for kids who want the fun of playing in the water without having to know how to swim, or getting a mouthful of saltwater.

G.T. Bray Aquatic Center Pool and Splash Park - The G.T. Bray Aquatic Center offers the following amenities: 8 lane, 25 yard x 6 lane 50 meter pool, 18 x 18 yard dive pool (April through October), One 1-meter diving board, One 3-meter diving board, 12 foot, 3 flume water slide, 2 foot wading pool, 4,000 sq.ft. splash area (April through October), Handicap access available, and Complete locker room facilities.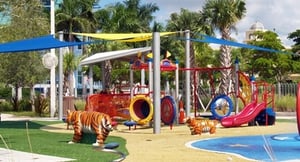 Payne Park Splash Area - The park is an intricate circus themed play space exploding with color and creative jungle gyms. The park also doubles as a skate park,a disc golf course, and a half mile loop for joggers and runners. Payne Park has one particularly populated summertime feature: the splash area.
Sarasota Sharks Water Park - Cool off with a zip down the slides or a dip in the pool at this fun-filled water park. With certified lifeguards, water slides, and concessions, this is a safe and fun place for all. Let your family's energy be spent making splashes, playing on the water playground, and competing for speed on the dual slides.
Sun-N-Fun - At Sun-N-Fun it's all about playing together in the pool, relaxing in the hot tubs, climbing to the top of the Slide and taking that thrill ride down. It's burgers and wings and things from the Poolside Bar & Grill. There's an Olympic size pool to play in, two hot tubs to relax in, the children's splash pool, playing on the Wibit or Meltdown obstacle course, special programs for kids, dive-in movies to watch from the pool, and great food from the Poolside Bar & Grill.