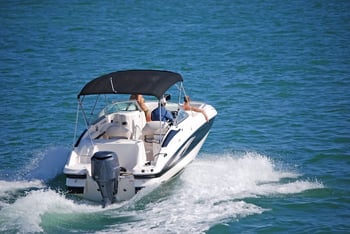 Boating opens up a unique way to visit many of the interesting locations the Bradenton area area has to offer. The following destinations can be easily accessed by boat:
Related Blog: Top 6 Dock and Dine Restaurants on the Manatee River

Egmont Key State Park
Located at the mouth of Tampa Bay, Egmont Key State Park is an island wildlife refuge that's only accessible by private boat. It has a rich history that includes a lighthouse that has stood on the island since 1858. It's a perfect relaxing getaway, but make sure to bring your own supplies. There are no stores or drinking water available on the island.

Spanish Rocks Reef
This reef is located on Anna Maria Island, just off of Bradenton Beach. It's a popular diving location, with plenty of sponges, corals, tropical fish, seahorses, and other ocean life to enjoy. You might even spot a nurse shark.

Dockside Restaurants
Boating gives you unique access to many restaurants in the Bradenton area. You'll be able to use your boat to travel directly to a number of locations that let you enjoy a wonderful meal with beautiful views. Try Tarpon Pointe Grill & Tiki Bar for gourmet food and live music in a laid-back atmosphere, and River House Reef and Grill for fresh seafood, elegant dining and a spectacular view or Pier 22 for an elegant waterfront dining experience.

The Riverwalk
The Riverwalk is a 1.5-mile park in downtown Bradenton that's accessible by boat. Dock your boat for the day and enjoy live entertainment, a botanical walk, and plenty of other activities. The kids or grand kids can enjoy a fountain and play area, or the group can walk to nearby restaurants, museums, and explore downtown after docking.

Contact us at The Islands on the Manatee River for more information about places in Bradenton you can visit by boat. Nearly all of our home sites allow for individual private docks. Take a tour of the Manatee River so you can see what it has to offer for yourself.