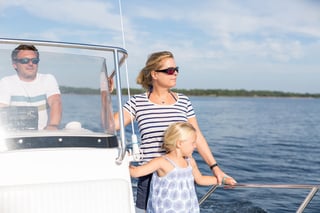 Sarasota-Manatee County waterways cover over 300 square miles of coastline. These waters offer quality recreational opportunities for pleasure boating and fishing. Mangrove forests, seagrass beds, salt marshes, and mud flats are among a few of the important coastal habitats which serve the abundant bird and marine animal populations of the Counties. The coastal waters of Sarasota-Manatee Counties are home to a variety of marine life, including bottlenose dolphin, loggerhead turtles, and West Indian manatees. Anglers will find an array of game fish and crustaceans within the bays and in the Gulf of Mexico, especially at the county's numerous artificial reefs.
Regarding ecosystem impacts, personal watercraft operators may increase the water turbidity in areas where they operate their vessels, which not only makes it harder to see things in the water but also blocks the light that seagrasses and other plants need to survive. In addition, if not operated in appropriate areas, these vessels may also blast out holes in seagrass systems and may disturb manatees or other wildlife in prime habitat areas. As a personal watercraft operator, you should understand how your vessel can affect wildlife and habitat to operate your vessel in a way that minimizes ecosystem impacts.

Approximately 25-30% of manatee deaths statewide are attributed to watercraft. In recent years, manatee deaths caused by blunt-force impacts (non-cutting) have outpaced manatee deaths caused by propeller cuts, with a small portion of the deaths/injuries attributed to both causes.
As a boater, you can also protect the waterways by following a few guidelines:
Abide by the posted speed zone signs

while in areas known to be used by manatees or when observations indicate manatees might be present.
Stay within marked channels.
Avoid shallow grass beds.
Try to stay in deep-water channels whenever possible.
If you run aground or enter grass flats to fish, stop your motor, tilt it up, and pole or push your boat through.
Wear polarized glasses to reduce glare on the water so you can see shallow areas.
Always stow your trash carefully for disposal on shore, and make it a habit to pick up plastics and other marine debris encountered while boating. Carelessly discarded trash can trap and kill birds, fish, and other marine animals.
Remain at least 50 feet away from a manatee when operating a powerboat.
Properly collect and dispose of fishing line and hooks.
When fueling your boat, be especially careful not to "top off" your tank, which can allow gas to spill over the tank and into the water. Small toxic spills can add up quickly.
Discard sewage from holding tanks only at approved pump out stations and marinas. A partial listing of pump-out facilities is provided in the Boating and Angling Guide marina listing. All state-designated "Clean Marinas" have pump-out facilities.
Take a tour of our beautiful waterways today.
Visit our Sales Center or call us at 941-208-1213 to setup a boat tour today.