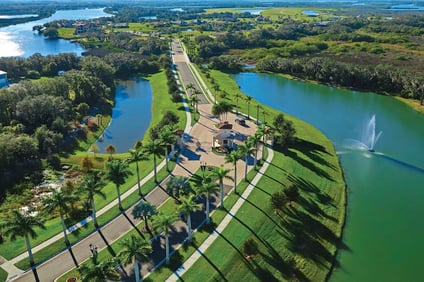 If you have always dreamed of waterfront living with a view of the gorgeous Manatee River, The Islands is the place to be. Located conveniently just to the east of I-75 and immediately next to the Fort Hamer Bridge, The Islands is the perfect community for you to spend your retirement days, or to raise your family.
Related Blog: Healthy Living on the Manatee River
An Active Community
Whether you love boating up and down the Manatee River in the afternoon, or enjoying a round of golf in the morning, The Islands was built to bring outdoor sporting right to your doorstep. You will enjoy fishing directly from your private backyard dock, have plenty of opportunity to explore the nearby beaches and enjoy plenty of open space for field sports.
Close to Everything
If you plan on making frequent trips into town for shopping, fine dining, or a night out, the Islands has plenty to offer. The Fort Hamer Bridge provides direct access to Lakewood Ranch and Sarasota where you can find the brand new, state of the art UTC Mall and plenty of other local attractions for your enjoyment. You will also be close to Sarasota -Bradenton's magnificent beaches and the Gulf of Mexico.
Relax and Enjoy
The Islands is a little piece of paradise, designed to let you come home and relax any day of the week. The community's grand amenities are perfect for those looking to get away from the hustle and bustle of the big city. We are also proud to welcome residents who are relocating to join us in one of the most beautiful waterfront communities that Florida has to offer. This is a place to grow, while learning about the great outdoors and having access to plenty of local entertainment.
No matter where you're coming from, or what your favorite hobbies are, The Islands should be your destination when it comes to finding the perfect home.