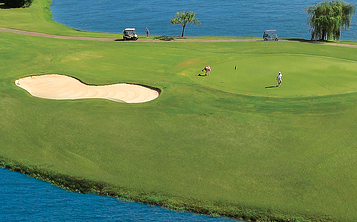 There is an innumerable amount of amazing things that draw people to Florida. The sunshine and the phenomenal wildlife are two of the highest ranking reasons that transform visitors into Florida residents, but the sport of golf elevates our state's sunshine and scenery to a whole different level. Florida golf courses are spectacular, unique, and pristine.
Related Blog: New to Golf? Here are the Top Things to Know to Get Started

Here are five top Florida golf courses that call the Sarasota and Bradenton area home:

River Wilderness: Parrish.

The River Wilderness Golf Course is home of The Islands spectacular golf course and is the perfect pairing of beautiful natural space and stunning greens. The course is incorporated into the Audubon Cooperative Sanctuary System, creating over 150 acres of beautiful, natural space for local wildlife to live while you enjoy the par 72 18-hole champion golf course. This course has been rated by Florida Golf Magazine as one of the top fifty courses in the state, and you will certainly see why when you schedule your tee time.
Concession: Bradenton.
The Concession Golf Club, located in beautiful Bradenton, FL, is known for exceptional service and stunningly well-kept greens. The course is laid out well, allowing for even the most experienced of golfers to be challenged with each new hole. Designed by Jack Nicklaus and Tony Jacklin, this course was created to be a favorite place of golf enthusiasts the world over. The greens at this course are fantastic inside and out. In fact, the culinary team has its own garden of homegrown herbs behind the kitchen, offering you the perfect place to refuel with top-notch food after a long day on the fairways.

Founders Club: Sarasota.
Situated in sunny Sarasota, FL, the Robert Trent Jones, Jr.-designed Founders Club is a private golf club that is renowned for its intimate connection to the tradition of the game. Over 700 acres of lush nature call this course home, giving golfers ample opportunity to take in the scenery between holes. This course is conveniently located near the gulf beaches and fantastic fine dining establishments, so you are sure to have a well-rounded experience when you a re connected with this club.

Laurel Oak: Sarasota.
Only open since 2006, the 18-hole West Course quickly made a big name for itself in the golf community. This portion of the Laurel Oak Country Club, designed by Gary Player and Rees Jones, offers you the opportunity to experience deep bunkers, which are found across the generous fairways. You will be exposed to difficult risk-reward shots that feel amazing when you hit them just right, and there are great par threes at this course, as well. The people who work in the Laurel Oak pro shop have a reputation of being just as friendly and welcoming as the course itself.

Legacy: Bradenton.
Bradenton, FL is home to yet another reputable golf course, which is known for its beauty and challenging greens. Designed by Arnold Palmer, Legacy Golf Club at Lakewood Ranch, this course brings amateurs and professionals together to explore the challenging layout and stunning surroundings of the greens. Nearly every hole is framed by sand and water, creating a picturesque place by which to test your abilities. Visitors of this club relate the atmosphere to that of a world-class private facility, often speaking highly of the impeccable customer service and immaculately maintained grounds.

Please feel free to share your thoughts about these Florida golf courses or talk about your or favorites that we may have missed. Conversations are constantly taking place on The Islands Facebook page.
To learn more about the Florida golf courses and other fantastic amenities that make up our The Islands of Wilderness community, contact us today!