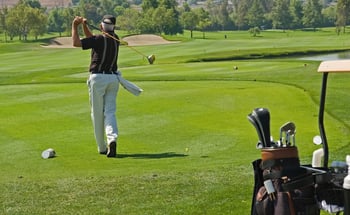 Golf is a game of relaxation and concentration, which is an ideal activity all year round in the warm climate of Florida. The game is closely associated with beautiful green scenery while every course has its own unique appearance. Here are some details to keep in mind as you enter this precision sport.
Related Blogs: Top 5 Golf Courses in the Sarasota and Bradenton Area

A Brief History of Golf
Even though golf seems like it's been around forever, since it originated in Scotland (which is known as the "home of golf") in the 15th century, it's only been a popular American sport since the early 1900s. The organizations that oversee the game are the Royal and Ancient Golf Club of St. Andrews (R&A), the United States Golf Association (USGA) and the International Golf Federation (IGF).

Object of the Game
Your challenge as a golfer can be competitive with other players in terms of scoring or it can simply be a mix of casual social pleasure and improving your swing. Unlike most other sports in which high scores are favored, golfing is about aiming for the lowest possible number of strokes with a club before sinking the ball in each hole. A complete round comprises 18 holes in a specific order.

Types of Golf
While there are many variations of the game, the two most common types are the more modern stroke play or the more traditional match play. Stroke play has been the most prominent since the 1950s in which winning is achieved with the least number of strokes by an individual. Match play can involve either individuals or teams in which victory is the result of the lowest score on the most number of individual holes.

Penalties
Points are added to scores for certain penalties such as:
• Hitting the ball out of bounds
• Losing the ball
• Swinging at the wrong ball
• Hitting an opponent's ball
Four Basic Types of Golf Clubs
• Woods (which include drivers) for long shots
• Irons for a variety of shots
• Putters for short rolls along the green
• Hybrids
Once you dedicate your leisure time to golfing you may want to invest in various clothing and gear, although many courses provide the option to rent equipment. Before making the investment, it is a good idea to learn what each type of golf club is used for. Long clubs are for long distance shots while shorter clubs are for short distance shots.
Living at The Islands gives you access to a luxury golf course right in your backyard so you can practice as often as you like. Contact us today to set up a tour and see how a home in The Islands can be the perfect fit for you.