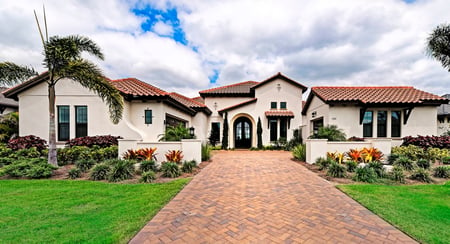 Arthur Rutenberg homes are known for their stylish elegance, craftsmanship, and lasting value. It's been a respected name in Florida homebuilding since 1953, and each home the company builds reflect its dedication and experience, from its award-winning model homes to your home.
A history of innovation and excellence
Arthur is recognized as the dean of Florida home design and is credited with introducing a long list of innovative design elements, including the split-bedroom floor plan and focusing on great views throughout the home. You can discover the beauty and comfort of an Arthur Rutenberg Homes at The Islands on the Manatee River, a private gated new home community situated on a 225-acre secluded island.

Making the most of spectacular surroundings
Homes are built so they take optimal advantage of Florida's natural beauty – one of Arthur's trademark design elements. They have plenty of windows to let the views, breezes, and sunlight become a part of your home. Indoor areas blend into outside areas, making the transition between indoors and outdoors a seamless one.

Homes in The Islands are estate-sized, with soaring great room ceilings. It's ideal for a first or second home in which to escape the harsh winters that are common in so many other parts of the country.

The community is also the perfect spot to realize the retirement of your dreams, as you enjoy tropical views and coastal breezes in a setting that seems like paradise. Spend your days golfing at the River Wilderness golf course, one of Florida's top 50 courses. Fish or boat from your private dock, kayak on the Manatee River, or relax and socialize at the River Lodge, an impressive social hub for the community.

See for yourself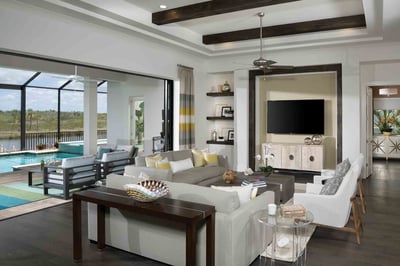 The Novara, Arthur Rutenberg Homes' newest model, is currently open for showing at The Islands on the Manatee River. The three-bedrooms with private baths home features 3,285 square feet of living area and 4,861 total square feet. It is located on a harbor lot with direct boating access to the Manatee River and Gulf of Mexico and is available for sale with a lease back.

The models are open daily Monday – Saturday, 10:00 am – 5:30 pm, and Sundays noon to 5:00 pm. Call or visit for current incentives at 941-208-1213.