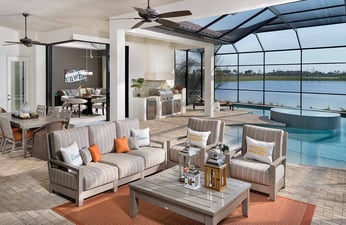 The Islands on the Manatee River is a private waterfront community that brings together three of the biggest names in southern homebuilding to provide you with a tremendous selection of luxury home designs. You will find several different aesthetic styles highlighted by the likes of Arthur Rutenburg, John Cannon and Lee Wetherington Homes. Each designer has a unique background that influences their designs and makes them truly one of a kind.

Related Blog: New Home Builders in Sarasota, Florida
Arthur Rutenburg Homes
A network of highly skilled designers who appreciate the natural beauty of the outdoors and know how to make a home flow flawlessly into its environment. Arthur Rutenburg is currently building homes in Harborside neighborhood at The Islands on the Manatee River. The Novara model home combines luxury and sophistication with casual living and is a perfect combination of modern with warmth. Push back the glass walls that wrap around the rear of the home and instantly merge the club room, dining area and great room with the lanai and cabana to blend indoor living with outdoor living. The spacious outdoor living features a pool, elevated spa, outdoor kitchen and linear fireplace. This exceptionally designed open plan makes your favorite things and favorite people feel right at home.
John Cannon Homes
Specializing in custom waterfront properties, John Cannon brings his own special flare to the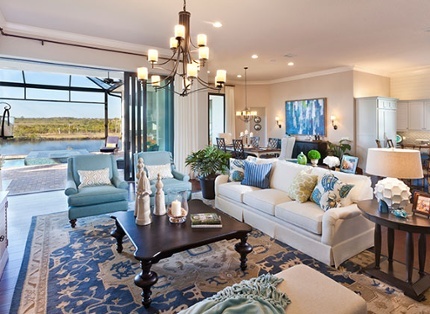 community. The Corindi model as seen on the cover of the 2017 Parade of Homes Magazine, award winning John Cannon Homes redefines West Indies with The Corindi model. A sense of seaside tranquility washes over every room in this 3,577 SF home with its sea-blue and citrus accents and elegant detailed ceilings. Styled for comfort, the great room opens up to the dining room and kitchen and offers stunning panoramic water views.
Lee Wetherington Homes
Lee Wetherington Homes are known for exceptional quality and unsurpassed customer satisfaction, coupled with a long record of outstanding community service. Having over 40 years of home building, custom home building, experience and as the builder of more than 4,000 homes in the most prestigious and sought after communities in Sarasota and Manatee Counties, Lee Wetherington Homes are esteemed by the most demanding of audiences. The new Windward model is now under construction at The Islands on the Manatee River, projected to open in January 2018. The 3-bedroom, 4-bath home features 3,341 square feet of living space, including a huge Great Room, dining area, and spectacular kitchen.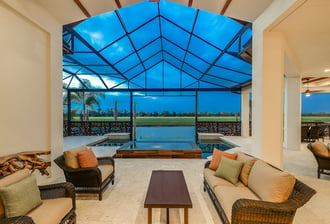 All three of these designers have brought an incredible level of skill and experience to the table, designing homes that will stand the test of time as the community at The Islands continues to grow. No matter what your style is, we are sure our designers can find just the right look for you.
Discover a collection of distinct custom estate size homes, ½-acre-plus waterfront lots, stunning natural surroundings, and first-rate amenities tailored to the enjoyment of the outdoors all combined to create the kind of simple, yet elegant, lifestyle that many only dream of.
This is more than a place to live—it's a place you'll love.
The models are open daily Monday – Saturday, 10:00 am – 5:30 pm, and Sundays noon to 5:00 pm. Call or visit for current incentives at 941-208-1213.