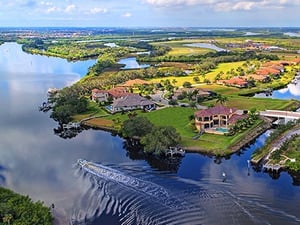 Homes on Florida's Gulf Coast are widely known for being excellent second home investments. Of course, the vacation home that you choose will depend on your own specific needs and interests. Homes on Florida's Gulf Coast have numerous amenities that cater to a wide variety of vacation needs. Do you like to spend time outdoors? Do you like being on the water? Gulf Coast developments like the Islands on the Manatee River provide their residents with everything from fishing and views of wildlife to luxuries like a golf course along with access to some of Florida's most beautiful beaches.
Related Blog: The Advantages of Retiring in a Private Gated Community
One of the main benefits of owning a vacation home is the freedom to customize your vacation in your preferred location, but what about waterfront homes specifically; what benefits do they provide? Consider the following:
They are Calm and Peaceful
When you have no neighbors on the side of your property that faces the water, it can help your vacation retreat to feel more secluded and more private while also providing spectacular views of the open water. The Manatee River's tranquil atmosphere can bring a sense of calm to enhance your relaxation.

They Provide Numerous Water Sports Options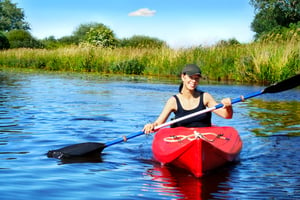 Being surrounded by water opens up a variety of water-oriented summertime activities. For example, boating, kayaking and fishing are all popular pastimes on the Manatee River. Fun on the water is not only enjoyable in itself, it also presents excellent opportunities to meet and bond with your neighbors. Additionally, if you own a boat, you may have the option of docking it nearby, even in your own backyard, so that you have easy access to it whenever you want. If you are not interested in water sports, you can enjoy other outdoor pastimes like golf. Along with enjoying the outdoors, you have the opportunity to experience the culture and nightlife in the nearby coastal cities.

They Can be Financially Rewarding
Waterfront homes also offer benefits in terms of their investment value. There are a limited number of properties available on the waterfront, which means that your vacation home will retain its value over a longer period than properties further away from the water. Along with its excellent resale value, a waterfront home can be an excellent rental opportunity. People want to rent waterfront homes for the same reasons that you want to own one, because they offer an excellent place to relax.

Even if you have no desire to rent your property out, it can still provide you with a great place to have guests in from out of town.The fact is that there are very few disadvantages to owning waterfront property. Investing in the right home can ensure your family's enjoyment for years to come and can prove a worthwhile investment for your financial future.

To learn more about why a waterfront home could be right for you, visit our blog or contact us today!