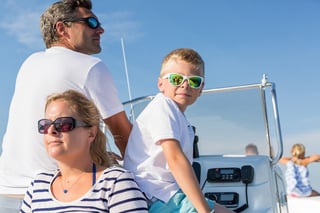 Florida is an outdoor lover's paradise. Surrounded on three sides by ocean waters, (the Atlantic, Gulf of Mexico, and the Florida Straits), and blessed with more than its share of sunny skies, the state offers a treasure trove of ways to enjoy its natural wonders through outdoor activities.
Related Blog: Parks and Preserves to Visit Near The Islands Community
Here is a list of what we consider to be the best ways to spend the day in the Florida outdoors.
Beaches!
This might seem like no-brainer choice, yet when you consider the breadth and variety of beaches that ring the state of Florida you'll see that there are many wonderful beach options to choose from.
Go bird watching
The combination of coastline and wetlands make for fertile bird habitat. The types of birds you might spot vary according to location and time of year. You might spy a native Passenger Pigeon, a formerly endangered Whooping Crane, or an exotic Monk Parakeet.
Take a deep sea fishing trip
The Gulf of Mexico is rich with fish of all types, and there are excellent fishing guides available to help you snag the big one. Cast your line into the azure blue waters, and hope that an exotic Amberjack, a tasty Snapper, or maybe even a razor-toothed barracuda takes the bait.
Paddle down a lazy river
Florida's beaches might get the glory, but its rivers are equally stunning, and are one of its most popular outdoor activities. Rent a canoe or kayak and take in the natural world from the unique vantage point of the water.
Tee off on one of the state's many world-class golf courses
This country is a golfer's dream, with a wide range of course types to choose from. Beginners will find lots of municipal courses, while more seasoned players will appreciate award-winning courses across the state.

Discover and delve into underwater treasures on a snorkeling trip
Fabulously colored coral formations, unique underwater creatures, and quizzical marine life are just few of the things you can experience in Florida's warm ocean waters.
Hang ten on a paddle board
Among the newer outdoor activities you can enjoy in Florida, paddle boarding lets you lightly surf the waves in a tranquil, relaxed way. A cousin of surfing, paddle boarding lets the surfer stand upright and use a long paddle to propel the board atop the more gentle waves.
When you live at The Islands, all of these Florida activities are available practically in your backyard. Contact us today to set up a tour and start living the best years of your life.