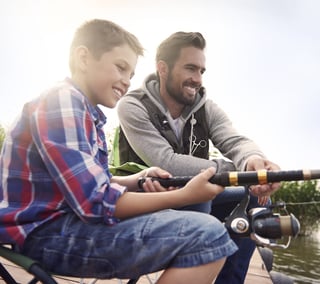 If you're a Florida Suncoast fishing enthusiast (or soon to be one), you understand how few experiences compare to dropping a fishing line in Florida waters on a blue-skied day. Whether fishing from a pier, a bridge, or pristine coastline, Sarasota is bound to have the fishing spot that works for you. You won't even need a boat to experience the thrill of a big catch!

South Lido Park
South Lido Park offers fishing fun and more for the whole family. Located on the southern tip of Lido Key on Big Pass shore, South Lido Park offers pavilions, grills, restrooms, swimming and, of course, fishing.
Point of Rocks
Tucked in between Crescent Beach to the north and Turtle Beach to the south, you'll find a hidden Sarasota secret that locals have enjoyed for generations. In addition to fishing, you and your family can enjoy snorkeling, coral, seabirds, and tranquil beauty. Bring plenty of tackle and arrive early for better parking.
Big Pass
Big Pass is another beautiful shoreline fishing spot in Siesta Key, with its white sand beach and refreshing swimming. This location is accessed via North Shell Road and Higel Avenue. Thanks to the channel's current, this is a great fishing and family location.
Bay Island Park
Located on the western end of the Siesta Key Bridge is Bay Island Park. With a seawall and grass beds around the entire marine perimeter, Bay Island Park offers many access points for anglers, as well as scenic picnicking, birding, nature watching, and walking trails.
Venice Pier and Caspersen Beach
South of Sarasota, jutting far into the Gulf, you can enjoy a day of fishing and walking along the beach at Venice Pier. More angling opportunities exist farther south along the rocky seawalls. Finish your day away from it all with a cold drink and tasty dishes at the popular eatery, Sharky's on the Pier.
Twin Lakes Park
Bass, bream, and catfish fishing — Twin Lakes Park offers great bank fishing if you're looking for a freshwater catch. The 123-acre park offers a multitude of facilities and activities for all-day fun and adventure. For baseball fans, Twin Lakes Park also serves as a training location for minor and major league baseball teams.

Boat or no boat, the Sarasota area offers spectacular fishing near your new home at The Islands.