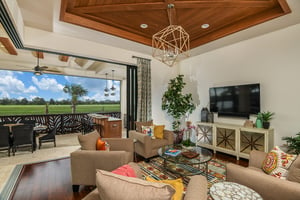 One of the biggest benefits to living in Florida is the beautiful weather we experience year-round. Warm winters and hot summers mean you can take advantage of Florida's outdoor living spaces with family and friends year round.So, it's no surprise that most wish to take advantage of the weather as much as possible. When creating your custom luxury home at The Islands consider creating a welcoming and accommodating outdoor living space so you can enjoy the beautiful weather and the breathtaking scenery.
Our preferred custom luxury home builders have years of experience creating these beautiful outdoor living spaces and are very well-equipped to guide you through the creation of yours. Consider your lifestyle and your family life, and how the space would best be utilized. Creating an ideal outdoor living space is essentially designing a new room for your home. The new room can be turned into a living room, a kitchen, dining area, entertainment area, or a garden space. This is where The Islands preferred builders can assist you in customizing your outdoor space to fit your needs.
A common and popular essential to include is a fire pit or fireplace. The fire will provide warmth to the outdoor element that is great for a winter evening with s'more and a bonfire. Outdoor fireplaces can be designed to incorporate a television fixed on top, bringing sporting events or movie nights with the family to the outdoors any time of the year.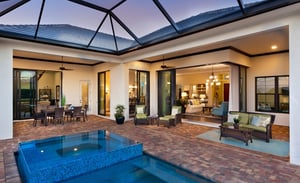 Rather than interrupting your outdoor fun by having to go inside to cook, create an outdoor kitchen so you can still entertain and enjoy the Florida weather. Outdoor kitchens today are easily customizable to fit into any space or any style. This addition to any backyard creates an ideal outdoor living space that friends and family can enjoy. It is the ultimate entertainment space, perfect for hosting parties or intimate dinners. Stainless steel appliances are a popular addition to create a sleek and modern look outdoors, as well as including bar space, trash space, shelving and countertops. Every kitchen is designed to best suit each individual need and provide the ideal outdoor living space for functionality.
You simply shouldn't live in Florida and not indulge in a custom pool, a raised spa, or any other water feature to decorate your outdoor space. Glistening pools invite you in for a dip when those hot summer days get the best of you and the spa offers a warm reprieve on those cool nights. From waterfalls in the pool or courtyard to fountains strategically-placed to visually enhance the space, water features are a popular way to add a sense of tranquility to your outdoor living area.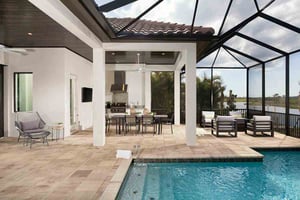 Maximize your time spent outside and you may find that you are healthier and happier, according to many sources. Nature can help us fight depression and stress, as well as increase focus and immunity. With so many health benefits, don't just spend your time outside jumping in the pool or eating barbecued ribs; take your friends outside for your visit or bring out your favorite book and relax poolside. You can also position a swing, hammock, or another form of comfortable outdoor seating to take in the view of your picturesque setting.
If you're looking for a custom luxury home with a beautiful outdoor living space to match, schedule a tour of our model homes today.