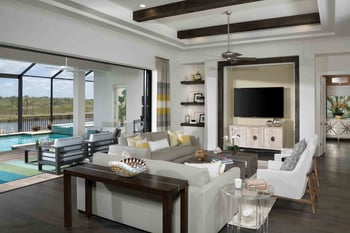 Selecting the right homebuilder that understands your wants and needs in a new home is one of the most important decisions during the home buying process. Fortunately, The Islands on the Manatee River has some of the best builders around.
Arthur Rutenberg Homes
Arthur Rutenberg award-winning designs feature high ceilings, window-laden leisure rooms, and indoor areas that seamlessly become outdoor areas. They offer more than 85 designs, all customizable. The Design Centers will help you select colors, products and options to create a home that is uniquely yours. The Arthur Rutenberg Homes newest model, the Novara, is currently open for showing at The Islands on the Manatee River.
"We have already recommended your company to neighbors who are now having a new home built on a nearby lot and we would unhesitatingly recommend you to anyone."- Customer Comment
John Cannon Homes
For over 25 years, John Cannon Homes has been designing and building luxurious custom homes in southwest Florida. Their award-winning homes are each as unique as the individual homeowners themselves and are designed with craftsmanship and commitment to customer satisfaction. John Cannon Homes award winning model, the Corindi, is available to view at The Islands on the Manatee River.
"Can't get enough of the Design Center. With its welcoming and friendly staff offering trendsetting new products and the location is convenient. Home to a professional and knowledgeable staff who provide timely and productive meetings!"- Customer Comment
Lee Wetherington Homes
With over 40 years of home building, custom home building, experience and as the builder of more than 4,000 homes in the most prestigious and sought after communities in Sarasota and Manatee Counties, Lee Wetherington Homes are esteemed by the most demanding of audiences. We are known for exceptional quality and unsurpassed customer satisfaction, coupled with a long record of outstanding community service. Lee Wetherington Homes newest model, the Windward is available to view at The Islands on the Manatee River.
"You've made possible for my husband and I to enjoy our dream home in the grandest possible way with not just a beautiful structure, but incredibly gorgeous selections from your design center…" – Customer Comment
As a premier waterfront estate community near Florida's Gulf Coast, The Islands on the Manatee River is proud to present new homes from Southwest Florida's finest luxury homebuilders including Arthur Rutenberg Homes, John Cannon Homes, and Javic Homes. From concept to completion, our master builders offer old-world craftsmanship and extensive knowledge to help create a new waterfront home for you in the Sarasota-Bradenton area of Florida. The Islands offers half plus acre homesites and nearly every home has a private dock. To learn more about a home at The Islands of Manatee River click here.
The models are open daily Monday – Saturday, 10:00 am – 5:30 pm, and Sundays noon to 5:00 pm. Call or visit for current incentives at 941-208-1213.