Located on Florida's Gulf Coast, Sarasota is home to fascinating museums, beautiful gardens, romantic restaurants, and a diverse choice of attractions, making it a fun weekend destination for couples and families.
The Ringling - is a fine art museum located on Bay Shore Road and one of the top Sarasota attractions. Established in 1927 from the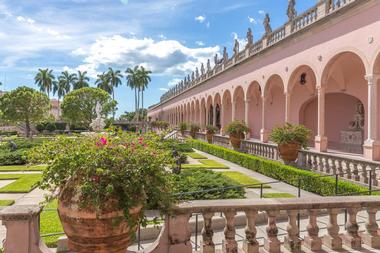 artwork donated by Mable and John Ringling, it was designated as the state art museum of Florida and is maintained by Florida State University. The museum is made up of 21 galleries of American art, Asian art, contemporary art, European paintings, and ancient artifacts from Cyprus.
Marie Selby Botanical Gardens - is a large botanical garden in the Hudson Bayou neighborhood and one of the best things to do in Sarasota, Florida. Covering seven acres, the gardens are located on the grounds of the former home of Marie and William Selby. The gardens focus on collecting and presenting epiphytes such as bromeliads and orchids and their ecosystems.
Ca d'Zan Mansion was the winter home of the American circus owner, John Ringling and his wife, Mable. Built between 1924 and 1926, the waterfront mansion is five stories high and contains 36,000 square feet. The Ringlings were lovers of Venice and the waterfront site reminded them of the lagoon in Venice.
Mote Marine Laboratory and Aquarium is a marine research center located on Ken Thompson Parkway on City Island in Sarasota. Founded in 1955, it was called the Cape Haze Marine Laboratory until 1967 when it was renamed in honor of benefactors Lenore and William R. Mote and his sister Betty Mote Rose. The laboratory is involved in marine and estuary research.
Siesta Key Village - The village is all about shops, parties, and fun, and its festive atmosphere is just perfect for barhopping. The village really gets busy during the many festivals it hosts, so if you can, time your visit with one of them. The Siesta Fiesta is one of the more popular events. Check the nightlife as well; there is something for everyone.
Big Cat Habitat and Gulf Coast Sanctuary - The sanctuary features three large indoor/outdoor habitats complete with swimming pools and plants to create a natural environment. Training demonstrations with the big cats are presented to help visitors understand conservation and habitat preservation.
St. Armand's Circle – The circle as we know it today was developed in the early 1950s, and has been steadily growing alongside the city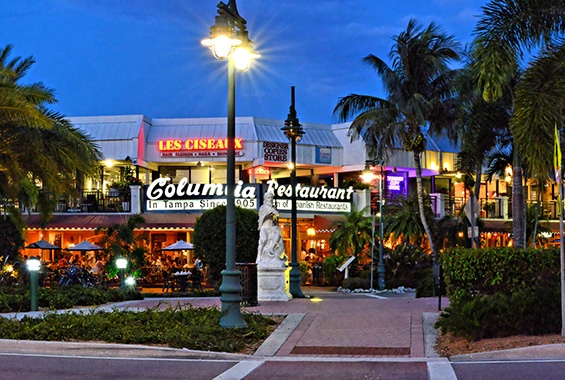 of Sarasota ever since. Enjoy a cocktail before your meal at Tommy Bahamas', or experience the fine dining of THE COLUMBIA RESTAURANT, which is based on the restaurant of the same name in Tampa, founded in 1905. After your meal, be sure to check out one of the many elegant shops that populate the circle, which include luxury clothing stores, jewelers, and multitudes of specialty shops.
Sarasota Jungle Gardens - is a garden and animal attraction located on Bay Shore Road. Founded in 1939, it is one of the oldest continuously operated attractions in the state. The gardens started with 10 acres of land which were planted with thousands of tropical flowers and trees from all over the world. In the 1970s, the first Exotic Bird Show was created and featured cockatoos and macaws.
Van Wezel Performing Arts Hall - is an architectural landmark and popular venue for comedy, dance, music, and theater performances. Built between 1968 and 1969 with funds donated by Lewis and Eugenia Van Wezel, the hall was renovated in 2000. It has a seating capacity of 1,736 people and the 6,000 square foot Grand Foyer can seat up to 350 people.
Myakka River State Park - Covering 37,000 acres, Myakka River State Park is one of Florida's biggest and oldest parks. It includes portions of Sarasota County as well as parts of Manatee County. It is named after the Myakka River which flows through 58 square miles of a variety of habitats such as hammocks, pinelands, prairies, and wetlands.
Visit The Islands on the Manatee River and discover a collection of distinct custom estate size homes, ½-acre-plus waterfront lots, stunning natural surroundings, and first-rate amenities tailored to the enjoyment of the outdoors all combined to create the kind of simple, yet elegant, lifestyle that many only dream of.
This is more than a place to live—it's a place you'll love.
The models are open daily Monday – Saturday, 10:00 am – 5:30 pm, and Sundays noon to 5:00 pm. Call or visit for current incentives at 941-926-6988.