The Islands on the Manatee River is located near several parks where you can enjoy native wildlife, hike, kayak or canoe, or just relax. The following parks are conveniently located near The Islands: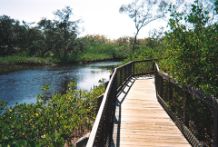 Related Blog: Best Water Activities in the Sarasota and Bradenton Area

Rye Preserve
Rye Preserve has an extensive trail system that travels through four different ecosystems, giving you the chance to see some interesting wildlife in each. Bike, hike, or ride horses to explore Rye Preserve's 145 acres, or launch your canoe or kayak to paddle the river and surrounding areas. Camping is also popular
at Rye Preserve, which is located just northwest of the Lake Manatee Dam.

Little Manatee River State Park
This park is located on 2,433 acres along the Little Manatee River, which flows for 4.5 miles throughout. It can be explored by hiking, canoeing, or horseback riding. The Oxbow Nature Trail offers a short one-mile walk if you'd like to take it relatively easy, or try a more strenuous hike on one of the area's most popular trails, the 6.5-mile stacked loop. A full-facility campground is available.

Emerson Point Preserve
This 365-acre preserve is located at the tip of Snead Island, where the mouth of the Manatee River meets Lower Tampa Bay. Native wildlife and plants abound, and visitors can use a canoe and kayak launch to access tidal canals and Terra Ceia Bay. The Preserve also includes a part of Florida's history, since it's home to southwest Florida's largest Native American temple mound.

Fort Hamer Park
Located in Parrish, Fort Hamer Park has become very popular since an 8,000-square-foot boathouse was adding to store racing sculls. This has helped make Fort Hamer the winter training home of some of the best collegiate rowing teams in the country. The park also has a pavilion, kayak launch and fishing pier, with more renovations planned.

This coastal preserve is located on about 600 acres in northwestern Bradenton. Many species of fish and other types of marine life make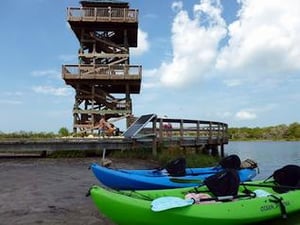 the salt marsh home. Hike, bike, or jog on one of Robinson Preserve's trails, or bring a canoe or kayak to explore the waterways. Leashed dogs are welcome so bring your furry friend, and don't miss the 53-foot-tall tower that offers a wide-open view of the Tampa Bay area and the Sunshine Skyway Bridge!

Contact us for more information about The Islands on the Manatee River. We'd love to share our community with you!