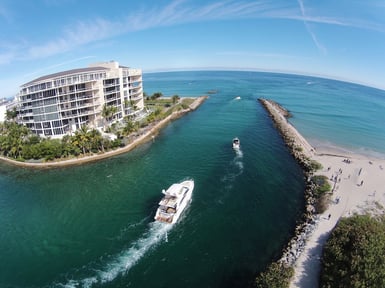 The option to own waterfront property on the Manatee River is an appealing one. To own even a small piece of this beautiful, natural environment is an overwhelming draw to first and second home owners alike. However, living on the Manatee River is about much more than just the natural world. It is also about creating the lifestyle that best suits you. The beautiful surroundings, excellent amenities, and superb travel links mean that your dream could be a reality.


Related Blog: Top 5 Golf Courses in the Sarasota and Bradenton Area
Widen Your Community Links
Life on the Manatee River is also about the boating community, about being able to spend time with friends, both new and old. It is about a sense of belonging, of being part of something bigger. The road and river links between your waterfront property and the local area give you the best of both worlds. The Gulf of Mexico is just a 30-minute boat ride from your waterfront property. This gives you the freedom to explore further and to enjoy all the sights and sounds that the river has to offer. You could spend the day exploring the local surrounding from your boat, or go ashore and enjoy the area.
Travel Without the Stress
Life on the waterfront is not all about relaxation, good commuter routes are essential for many waterfront residents who still have to get to a day job. Luckily, on the land side, the Fort Hamer Bridge brings the wide community closer than ever before. The bridge makes commuting or visiting clients from your new home almost seamless, shortening your travel distance and time, giving you more freedom to enjoy the golf course or other leisure activities.
Leave the Car at Home
The new Fort Hamer Bridge, with its improved road surfaces, pedestrian access, and bicycle lanes, means that Lakewood Ranch really is just around the corner, even if you want to leave the car at home. It also means that there are fewer excuses for the family not to visit. The ample space at your new luxury waterfront home, combined with the great access routes by land and water, make entertaining almost a must.
Whether you are looking to move to a new home or want a second one to escape the hectic everyday life, the The Islands on the Manatee River is a perfect choice.
Come by and take a tour of the 2 miles of Riverfront on our luxury deck boat. Experience the lifestyle you've been waitng for first hand.
This is more than a place to live—it's a place you'll love.
The models are open daily Monday – Saturday, 10:00 am – 5:30 pm, and Sundays noon to 5:00 pm. Call or visit for current incentives at 941-208-1213.