The long-anticipated Fort Hamer Bridge on the Manatee River is now scheduled to open Oct. 18. The bridge will link Fort Hamer Road on the north shore and Upper Manatee River Road on the south shore, providing a north-south route spanning the Manatee River that will be an alternative to Interstate 75.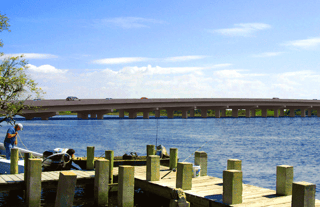 The new bridge and improvements to Fort Hamer Road and Upper Manatee River Road cost $32.69 million. In addition, $6,490,000 of roads improvements are being made to Fort Hamer Road, and $2.7 million of improvements are being made to Upper Manatee River Road.
The bridge will have a sidewalk on the east side, paved bike lanes and roadway lighting.
The new connection means The Islands on the Manatee River will be just minutes from I-75 and Lakewood Ranch. Now nothing will keep you apart from the lifestyle you've dreamed about. Enjoy your boat in your backyard, a huge ½ acre plus waterfront homesites and the area's most pristine gated community.
All the amenities associated with exclusive waterfront living are just minutes away. Public beaches, world class golfing and full services marinas.
The model home is open daily Monday – Saturday, 10:00 am – 5:30 pm, and Sundays 12:00 pm to 5:00 pm.
Come by to experience this unique and one of a kind community today – you will not be disappointed!