The 27th annual Arthur Rutenberg Homes Pride In Partnership awards dinner was held June 23rd at The Mayflower Hotel Inn in Washington, DC. Awards were presented to ARH franchisees and vendor partners who exhibited noteworthy performances during the past year.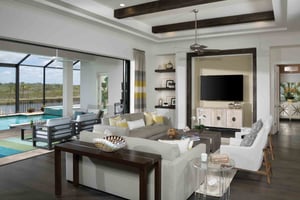 Barry Rutenberg, Chairman and son of founder Arthur Rutenberg, presented the prestigious "Chairman's Award" to Bob Wilson, Franchisee for R.W. Wilson Homes in Sarasota, Florida. The Chairman's Award recognizes special achievement and is not necessarily awarded every year. Bob was honored for consistently displaying what it takes to succeed. His company has had over 34 years of success as measured by customer satisfaction, financial performance, commitment to the brand and personal integrity.
Bob was selected from 43 Arthur Rutenberg franchises throughout 9 states!
Starting as a superintendent in the building business almost 40 years ago, Bob worked his way up to Building Company President and has built over 600 homes in the Sarasota and Manatee communities. He builds at The Islands on the Manatee River and also on your own lot in both counties. His devotion to ensuring customer satisfaction is exemplary, and one of the compelling factors in receiving this distinguished award.
Stop by and view the Arthur Rutenberg model at The Islands today. Models are open daily.