Warm weather, great beaches, and no state income tax -- just three reasons advisers say Florida deserves its reputation as a retirement Mecca. Sarasota-Manatee area should be at the top of your list. Sarasota is one of the Sunshine State communities that have become popular with retirees, and for good reason. This town on the state's west coast has a population of a little over 53,000 residents and offers cultural diversity along with a variety of activities and gorgeous home options to fit your Florida retirement lifestyle. Below are five reasons to consider retiring to Sarasota:
Related Blog: Year Round Florida Activities to Enjoy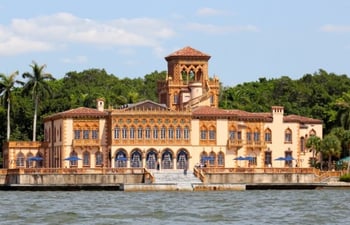 Vibrant Culture
Although Sarasota has one of the most beautiful beaches around, Siesta Key, it also has a number of cultural offerings including opera, a variety of art galleries along with historic landmarks and an aquarium. John Ringling of the Ringling Bros lived here and provided the city with its own permanent circus. There is also the Ringling Museum of Art run by the Ringling Estate. Along with all of that, Sarasota-Manatee has numerous restaurants (more than 1400 of them) and places for high end shopping.
Mild Weather and Always Sunny
Sarasota's winter temperatures rarely ever fall below 60 degrees and you are likely to get at least 250 sunny days per year. It is true that the state is known for being hot and humid in the summer, but Florida's summer temperatures are not much higher than those in most places further north. In addition, it is important to note that summertime humidity in coastal areas like Sarasota is considerably lower than it is in inland central Florida communities like Gainesville or Orlando..
Cost of Living is Less
Florida has no state income tax along with relatively low property taxes and energy costs. As a result, Sarasota-Manatee area is actually an affordable place to live. The cost of living is 6.7 percent below the average for the rest of the country and if you choose to live here permanently, you can get an extra property tax deduction of $25,000 via the Homestead Exemption.
Multiple World-Renowned Beaches Nearby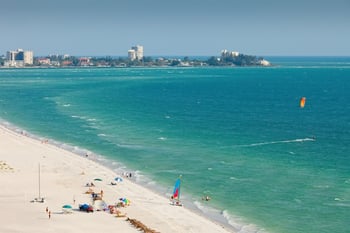 Sarasota's Siesta Key is considered to have some of the best beaches in the country. In fact, the Travel Channel has recognized Crescent Beach on Siesta as the best sand beach in the country. Siesta Beach is also known for the quality of its sand, which is 99 percent pure quartz. These are not the only beaches in the area; your other options include Turtle and Venice Beaches, along with the Anna Maria Island beaches in Bradenton. All of them are free and open to the public.
Excellent Housing Options
Wondering where to retire in Sarasota-Manatee? You can own waterfront property in a community like The Islands on the Manatee River. There you will be able to enjoy Florida's abundance of wildlife as well as its beautiful foliage-filled landscape. You will also have access to a variety of outdoor activities. Whether you prefer to spend your days on the water, on the golf course or shopping and dining in Sarasota-Manatee, you will be able to enjoy yourself right in your backyard.
To learn more about how The Islands could be right for your Florida retirement, contact us today or set up a tour!