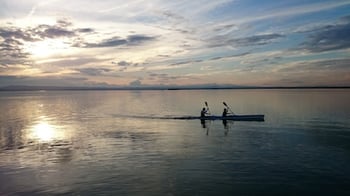 Gated communities offer many advantages for their residents. Within the confines of each community, you'll often find benefits waiting for you that can't be equaled if you live in a home that stands on its own. In fact, these communities offer so many positive attributes, it's a wonder that you would want to live anywhere else!
Related Blog: What to Expect From the Florida Retirement Lifestyle

Here are a few reasons why a gated community ranks highly among residents:

Planned Layout
Gated communities are built around the residents' needs and lifestyles. As such, you'll typically find layouts that are planned around ease of mobility with walk paths, bike paths, easy access to the water, and well-maintained roads that make it easy to get from here to there.
Beautiful Scenery
Typically, you'll find gated communities in areas that are surrounded by natural beauty. Rather than residing in a multi-unit building in the city, you'll have a single-family home all to your own. You'll find lush green lawns in place of the concrete you'll find within the confines of the city. The world beyond the gates is just an extension of your own front yard.
Safety & Security
By nature, gated communities are intended to ward off the unwanted. With limited access from the surrounding area, you'll sleep sounder, knowing that your property is enjoying a certain amount of protection that simply cannot be obtained by a home that stands on its own.
Activities & Amenities
Communities such as these often have many activities built in. At The Islands on the Manatee River, the possibilities are virtually endless. No matter what your interests, there are sure to be tons of things to keep you entertained. This is just a quick look at some of the fun waiting for you:
Boating from your private dock
Access to The Island Club
Walking Trails
Kayaking
Private Golf Courses
Tennis
Fitness Facilities
Jr. Olympic Swimming Pool
Fine Dining
Gated communities offer spectacular opportunities. At The Islands on the Manatee River, we can't wait to show you around our stunning property. Contact a member of our team and let us tell you more!