Sarasota, Florida happens to be not only a great vacation spot for the family, but also one that keeps us happy with its luxury lifestyle. It is home to many of the most exclusive communities and clubs in the U.S. For those who love to shop, you will find some of the best shops on Longboat Key and St. Armands Circle. But even if you prefer the more active lifestyle, you will never be bored with all the area has to offer.
Where to Eat
Sarasota County is home to some amazing award wining chefs. It has one of the highest concentrations of Zagat-rated restaurants around. There are many old classics and new restaurants worth trying and you will most likely come back to try the rest. A few of our favorites are:
Roessler's is a Sarasota County staple that is in its second generation of chefs in the family. The chef sources the finest of ingredients for the classic menu that includes Veal Oscar and Steak Diane. The service is top class. Roessler's has been featured in Gourmet and has received the Wine Spectator's award of excellence.
Cafe L'Europe is located in one of the best shopping areas around and is a must for all, especially seafood lovers. It is rated the area's most elegant restaurant and we understand why.

Sarasota's iconic Café L'Europe has built an unparalleled reputation for its elegant and delicious European cuisine, award-winning wines, table side specialities, and professional service.
Crab & Fin is a sophisticated eatery located on St. Armands Circle.

All of their fish arrives each day by air, and is cut from whole fish in house.

The sprawling menu offers fine-dining temptations such as Dover sole, blue lump crab cake or a 16-ounce grilled pork porterhouse. And it's one of the best spots around for local grouper sandwiches and stone crab claws. Relax in the formal dining room or outside under umbrellas as the piano player plays out tunes from behind a screen of palm trees.
Jack Dusty is located in the Ritz-Carlton. There's a picture-perfect view of Sarasota Bay from tables in the stunning coastal-contemporary dining room. The wine list is deep and impressive, and the signature craft cocktails are worthy of trying. An eclectic menu balances international and local fare with lobster rolls, swordfish, serious steaks, fish tacos and shrimp and grits with andouille sausage. Or dine entirely from the luxurious raw seafood bar. Everything served Ritz-graciously, so you feel pampered from beginning of the meal to the end. Dine inside or al fresco on the covered terrace
Hyde Park Prime Steakhouse Snuggle up by the fireplace with a craft cocktail at this elegant, clubby downtown steakhouse, where dark woods and red-hued walls and furnishings create a romantic atmosphere. This is the place to take expense-account clients or celebrate a special anniversary— enjoy the 4:00 to 6:30 p.m. weeknight happy hour with affordable drinks and bar plates.

Hyde Park Prime specializes in classic and noveau styles, including steak ala Oscar, steak au poivre, and Tournedos au Bleu.
What to Do
There is an endless list of activities to do in Sarasota County. Here is our short list of what not to miss.
The Ringling Estate – Visiting the Ringling Estate will take a day in itself. We suggest taking it all in and plan on having lunch at Muse at the Ringling (make a reservation). For the full experience, we suggest calling the tour number and arranging a day that is right for your family. The admission ticket will give you entry to the Museum of Art and Circus Museum as well as the grounds, where you can spend hours and hours. Call ahead to book your Ca' d'Zan Combo Tour, which has limited tickets each day, but will take you to areas only a few see in the private residence.
Kayaking – Kayak right in your backyard at The Islands on the Manatee River. Enjoy a tour of the mangroves and waterways. We have seen so much, including manatees and dolphins.
Van Wetzel –

A true pioneer in the cultural development of Sarasota, the Van Wezel,

presents a broad spectrum of the world's finest performers representing the diverse tastes of Southwest Florida residents and visitors. Enjoy a Broadway musical, or laugh at a a popular comedian or be swept away with the sounds of a symphony orchestra. Offering an array of performances for your enjoyment.
Marie Selby Botanical Gardens -

Nestled on the shores of beautiful Sarasota Bay, Selby Gardens is a tropical urban oasis with something for everyone. Relax amidst nature's beauty and allow the scenery of unparalleled botanical bliss to carry you away.
Mote Marine Laboratory & Aquarium – Mote is a working marine hospital caring for, rescuing, and releasing marine wildlife. Plan on a half day exploring the laboratory and visiting the aquarium, enjoying the touch tanks and more.
Polo Games – For those wanting to turn it up a notch, we suggest enjoying a polo game. Take it all in from the sidelines and clubhouse at the Sarasota Polo Club.
Sarasota Opera House –

bringing world class opera to the southwest gulf coast. Consistently garnering international attention as one of the few places to experience rarely performed operatic works, Sarasota Opera continues to distinguish itself as one of the premiere opera companies in

the United States by finding innovation through tradition.
Where To Shop
We would be remiss if we left shopping off this list, because Sarasota County is known for its shopping. You can shop just about anywhere for amazing items and visiting one of the many arts' festivals is how we have bought much art. There are two specific areas that should not be missed for those of us who like to do a little shopping on vacation. As you all know, we are not those "pack-in carry-on" type of travelers, as we are very good at shipping anything home from art, to wine, and everything else.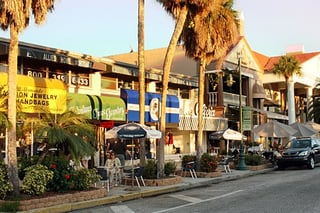 St. Armands Circle– Lido Key/St. Armands is a favorite for both domestic and international visitors, with its European feel and beautiful architecture. It is pleasant on the eye and easy for non-shoppers to find a cafe to sit, people watch, and enjoy a treat while you shop.
Downtown Sarasota– We have to admit that we have only been window shopping in Downtown Sarasota and are very sad about this. The shops are growing in number and include many of our favorites, as well as local gems. You can find anything from jewelry and art to the finest of clothing and accessories. Our issue is we have only been there early during the Farmers' Market, which is a must visit or late for a fabulous dinner at one of the many restaurants.
Enjoy all of these amazing amaneitie