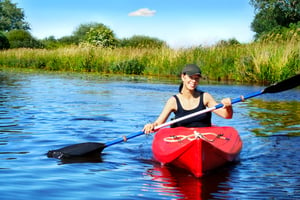 The Sarasota area is a great place for you to escape and relax, hang out on the beach, and enjoy a peaceful vacation… or staycation! However, if you are interested in doing more than just kicking back, you are in good company. From parasailing and kayaking to fishing and boating, the number of water activities means there is something for everyone:
Related Blog: Top 6 Dock and Dine Restaurants on the Manatee River
Parasailing
There is nothing quite like the thrill of parasailing. From takeoff to landing, it gives you a rush and a way to relax at the same time. Feel the wind on your face and enjoy the scenery around you from the comfort of the air. There's nothing quite like it.

Kayaking
When you want to get out for one of the best workouts water activities have to offer, there are several places you can go to rent kayaks. Find new and exciting places to explore without having to get into a car and fight traffic. Whether you want to paddle along or with a small group, there are different sizes so that you can get the most out of your time on the water. Fort Hamer Park, located directly next to The Islands, is a convenient place to launch your kayak into the Manatee River.

Paddle Boarding
If you want to work out more than just your arms, paddle boarding can really give you the exercise you want. Feel a bit like a gondola driver as you maneuver your board around the water. Paddle boarding helps with balance, as well as relaxation because you will be setting your own pace and distance. It's one of the best ways to get a sense of accomplishment without the stress.

Boating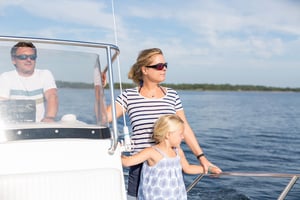 Not everyone wants to spend their time fighting water, sometimes you want to be able to enjoy without having to tire your arms. Sarasota and the Manatee River has a lot of locations that rent boats, or offers the convenience of using your own. Cruise out a ways from the shore for a peaceful afternoon of fishing and chatting, or explore the area by sea. Rental boats range in size and style to fit your needs and party size. Located directly next to The Islands, Fort Hamer Park offers a convenient boat launch, complete with docks, where you can launch into the Manatee River. Fort Hamer Park offers an authentic natural Florida feeling with beautiful, relaxing sitting areas.

Dolphin Tours
Some of the best water activities involve a bit of learning. Dolphin tours give you the chance to enjoy being on a boat without having to pilot it. The captains can take you to the areas that are the most likely to attract dolphins to the boat. Skipping along the water top in the company of these amazing and friendly creatures is something you won't soon forget.
Contact The Islands on the Manatee River today to find out how all of these activities can be at your door step!