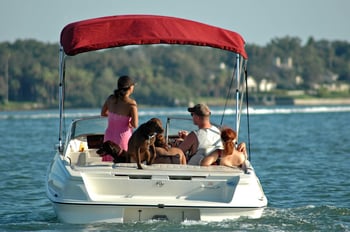 If you're looking for a new place to call home or a second residence for the winter months, Sarasota, Florida is an ideal location combining year-round gorgeous weather, beautiful beaches, world-class cuisine, and cultural opportunities. With so much to do, even if you intend to purchase a second home, before long you may find it's your favorite home.
Related Blog: Year Round Florida Activities to Enjoy
1. Weather
Sarasota has a very temperate climate, virtually perfect year-round with an average high temperature of 82.8° F, and an average low around 62°. Rainfall is moderate, with many sunny days throughout the year. This beautiful weather is a main attraction in Sarasota, allowing you to enjoy the wide array of outdoor activities, including beaches, biking, boating, and exploring the local flora and fauna.
2. Affordable Housing
Florida has no state income tax, low property taxes, and low energy costs. Compared to similarly-sized cities, Sarasota is an exceptionally affordable place to live, providing all the benefits of a city and all the relaxation of the beach.
3. Proximity to the Water and Beaches
Sarasota is home to some of the world's best beaches, including Siesta Key Beach, voted the world's best sand beach several years in a row. There are many beaches throughout the Sarasota area, each with its own unique personality. Gulf waters are typically warm enough to enjoy a splash through the tides, and the views are spectacular.
4. Boating
Enjoy the Gulf waters, rivers, and canals by boat or kayak. Sarasota offers many options for getting out in the surf, with boating charters, kayak rentals, and many places to dock your own boat if you decide to purchase one. The keys offshore of Sarasota offer easy navigational marks, making Sarasota an excellent location for even less experienced boaters.
5. Marine Life
Sarasota is home to fascinating marine life, including dolphins and manatees. The waters off Sarasota mark the southern end of the world's largest manatee population. If you love these aquatic mammals, you can get up close and personal with them in Sarasota.
6. Restaurants
You will find an endless variety of cuisine in Sarasota. Everything from typical beach shack fair to fine dining can be found in the restaurants in and around Sarasota. It is also home to a number of craft breweries. No matter what your tastes, you're sure to find plenty of options in the area.
7. Arts
Sarasota is known as Circus City, USA. Winter home of the Ringling Brothers Barnum & Bailey Circus, Sarasota offers a rich variety of circus arts, including the Ringling Museum. On this vast property, you will find a circus museum, the palace of John Ringling, a 31-gallery art museum, and a theater. Sarasota is also home to a ballet company, an orchestra, an opera, and enjoys world-class exhibits and performances.
8. Events
From the casual and exciting atmosphere of the weekly Siesta Key drum circle, to flea markets, craft fairs, and art festivals, Sarasota has a number of events throughout the year to keep you busy.
9. Baseball
For the baseball fans, Sarasota brings you the excitement of major league spring training camps. Catch early glimpses of the major league teams as they warm up for their season, for lower prices than regular season games.
10. Excellent Healthcare
Sarasota has 4 local hospitals, providing residents with a range of excellent health care options. Their hospitals are nationally ranked near the top, with the area being named as one of the cities with the best health care systems in the nation.
With so much to do in Sarasota, its no wonder so many people purchase their luxury waterfront homes here. To find your perfect Florida home, contact The Islands on the Manatee River today for more information or to set up a tour.